COST REDUCTIONS AT A NICKEL MINE IN FINLAND
Arctic conditions and abrasive materials can put any machinery to the test. This is why we were excited to witness how Sleipner E400 dollies significantly increased the service life of the excavator undercarriage at a nickel mine in Finland. The improvement was so significant that even after 19,000 hours, the tracks were still as good as new – imagine that! In addition, excavator maintenance is now done at the workshop instead of at the pit. This improves safety and the quality of maintenance while protecting the engine and hydraulic lines from harmful dust.
The Sleipner E Series also promotes ecological values, since it minimises the possibility of any oil spillages or other environmental accidents. A vital plus in the Arctic environment is the fact that Sleipner E Series dollies enable fast transportation even in snow and icy conditions.
"Servicing can now be done much faster than before, and in one place," the customer confirms. "We have all the spares available, and even unplanned maintenance can be easily done at the same time as the planned service, so there is no unnecessary driving between the pit and workshop anymore."
Sleipner E400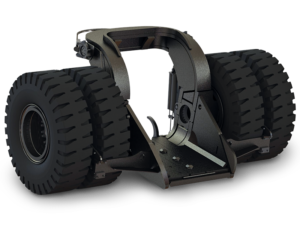 Excavators typically spend 7 to 30% of their operating time tramming – time that can be reduced up to 85% by using Sleipner E Series dollies. Designed for safe and fast set up and unloading, Sleipner E Series dollies are a cost-effective, time-saving alternative to lowbed trailers. They make moving your excavators around safer and much faster – resulting in a productivity increase similar to having an extra excavator.