MAINTENANCE COST REDUCTIONS AND FLEET OPTIMISATION AT A PLATINUM MINE IN SOUTH AFRICA
Multiple open pits measuring over 10 km (6 miles) in length pose challenges to any fleet management. At a South African platinum mine, there were plans to cut the dozer fleet from 13 to 9 units in order to fit in the maintenance budget. After using a Sleipner DB120 lowboy trailer for only 6 months, however, maintenance costs for the 13 dozers were reduced to below the budgeted maintenance budget for 9 dozers.
"All the maintenance could be done at the workshop within a contaminant-free environment, where all the tools and service equipment were available with the spare parts," says the customer. "The workshop environment allowed for unplanned maintenance jobs to be done at the same time as the planned maintenance, instead of booking a separate service time later."
Safety is not always a calculable or quantifiable factor, but in a comparison between the operational procedures of a conventional lowbed-type trailer and a Sleipner DB120 off-road trailer, the Sleipner will clearly win. The low centre of gravity provides exceptional stability and removes the danger of falling off when loading and unloading the dozer. No un-hitching or re-hitching of the ADT is required. The manoeuvrability of the DB120 is exceptional and allows for the possibility to load at the actual operating location.
Sleipner DB120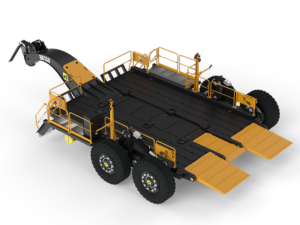 Multipurpose Sleipner DB Series lowboy trailers improve the onsite mobility of your tracked equipment and any heavy machinery within its weight-carrying capacity. A tilting bed enables fast loading and unloading, a small turning radius provides agility, and a high ground clearance translates to good transportability in rough terrain. Operational safety is ensured by reliable braking, excellent visibility and advanced hydraulics