IMPROVED FLEXIBILITY AT A LIMESTONE QUARRY IN THE UK
The production process at a UK limestone quarry required constant mixing of materials from different locations. The purchase of Sleipner E90 dollies enable selective loading and accurate material separation. The result was rewarding: a smaller loss percentage and significantly reduced relocation times.
The Sleipner E Series dollies had an absolutely positive impact on productivity at the quarry, as well as making excavator transporting smooth and fast. In addition, refuelling could now be done at the site workshop, which reduced the possibility of oil spills.
"Originally, we were looking to purchase a wheel loader, but we were convinced to change to an excavator with Sleipner combination," says the happy customer. "This was a win-win situation for us, as we were able to get the mobility of a wheel loader with the efficiency of an excavator with lower life cycle costs."
Sleipner E90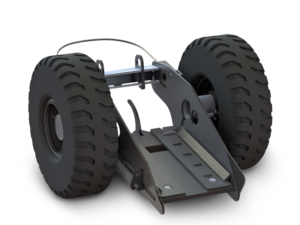 Excavators typically spend 7 to 30% of their operating time tramming – time that can be reduced up to 85% by using Sleipner E Series dollies. Designed for safe and fast set up and unloading, Sleipner E Series dollies are a cost-effective, time-saving alternative to lowbed trailers. They make moving your excavators around safer and much faster – resulting in a productivity increase similar to having an extra excavator.