MOBILITY INCREASES EFFICIENCY AT AN IRON ORE MINE IN AUSTRALIA
An Australian iron ore mine used traditional transport methods for its excavators within its large geographical operations area. As a result, relocating the excavators often took a very long time – easily an entire working day. With Sleipner E400 dollies, relocations today are done within one hour – the time saved is close to an entire shift. And while the constantly hot Australian weather presents a special challenge, Sleipner E Series dollies are built to operate in any conditions.
The reduced traveling time resulted in improved excavator efficiency, more productive working hours, increased production and cost savings. This meant the break-even period for their Sleipner investment was just a couple of months.
Sleipner E400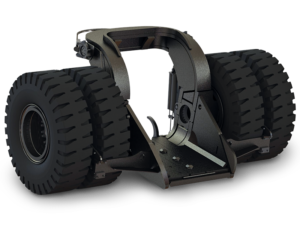 Excavators typically spend 7 to 30% of their operating time tramming – time that can be reduced up to 85% by using Sleipner E Series dollies. Designed for safe and fast set up and unloading, Sleipner E Series dollies are a cost-effective, time-saving alternative to lowbed trailers. They make moving your excavators around safer and much faster – resulting in a productivity increase similar to having an extra excavator